Cerasuolo d'Abruzzo DOC Superiore
To keep us on our toes we need gutsy ideas and courage in barrels. To change our way of perceiving our vines is an ongoing challenge that often leads us to experiment with new approaches. A spirit of adventure and curiosity is our lifelong travel companion and we're not afraid to explore off the beaten track. Notàri Cerasuolo d'Abruzzo DOC Superiore is the result of this attitude, developing from the need to look around us for new inspiration.
This is our first vintage, from the 2020 harvest, and comes from our intention to reveal the hidden aspects of the Montepulciano grape and produce a wine that respects the typicality of Cerasuolo but at the same time is more complex, structured and intense.
We're proud of the result and of this new label added to the Fattoria Nicodemi line. The wine is stylish and structured, and with a cellarability that will make it a success even further down the line. We can't wait for you to taste it.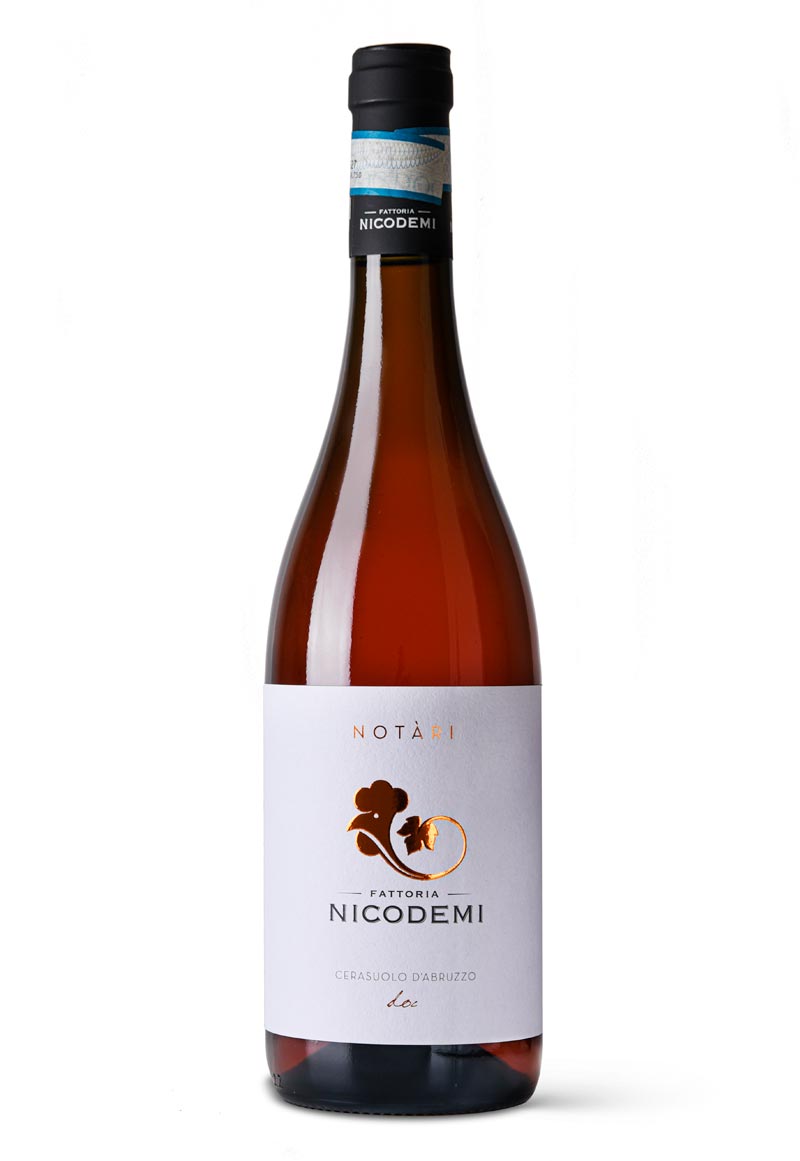 DESIGNATION: Cerasuolo D'Abruzzo DOC Superiore
AREA: Abruzzo – Teramo hills
VARIETY: Montepulciano
ALTITUDE: 250-300 metres
SOILS: Medium-textured limestone and clay
TRAINING SYSTEM: Abruzzo pergola
DENSITY: 1,200 plants/hectare
VINEYARD AGE: >45 years
AVERAGE YIELD: 60 quintals/hectare
HARVEST: Late September then mid-October
WINEMAKING METHOD: Grapes from the same plot are harvested in two cycles. Each harvest has its own type of maceration, one saignée and the other short. Both fermentations use ambient yeasts and at the end of the process the two batches are blended.
AGEING: 4 months in steel tanks with regular stirring of fine lees.
BOTTLE AGEING: 2 months
PRODUCTION: 2,500 750ml bottles
SENSORY PROFILE: Bright cherry pink and a nose of full, stylish fruitiness with notes of cherry, pomegranate and raspberry, embellished by spicy and balsamic hints. The intense mouth unfolds with red berries and minty touches. Excellent acid backbone and long, lingering flavour with a zesty ring.
PAIRINGS: Cured meats, vegetarian dishes and legume soups, white meats, grilled meats and medium-ripe cheese.
SERVING TEMPERATURE: 12°-14°C